Welcome to Our Practice
Podiatrist - Santa Clarita
Valencia Foot And Ankle Center
Welcome to Valencia Foot And Ankle Center
Dr. Tony Avakian DPM
Awarded Ultimate Podiatrist by The California State Legislature (2019-2023)
Surgical Training: Cornell Medical Center, NY and Cedar Sinai Hospital, CA.
At Valencia Foot And Ankle Center, we believe that a doctor and patient become a team for treating an individual's feet. Dr. Avakian spends most of his time listening to understand your concerns and responding with the best treatment options for you and your time is never rushed. We do not over book patients like other offices which allows you to get the best care possible like you deserve!
We also want our patients to be informed about podiatric problems and treatments, because informed patients make better decisions about their health and well being. That is why we've included an extensive section on this web site covering the full array of topics associated with podiatry and podiatric diagnoses and treatments. We encourage you to look through these pages whenever you have an interest or concern about your feet. Our office provides the latest in cutting edge treatment for all your Podiatric needs.
We also know that convenience in the Santa Clarita area is important to your selection of a podiatrist. In these web pages you'll find information about Valencia Foot And Ankle Center 's office, including our Santa Clarita location, maps, directions, hours, insurance policies and appointment scheduling. Please feel free to contact us with any questions you have or book an appointment online. We hope you'll find our practice offers the accessibility and personal commitment you look for from a physician. Look at our reviews below!
---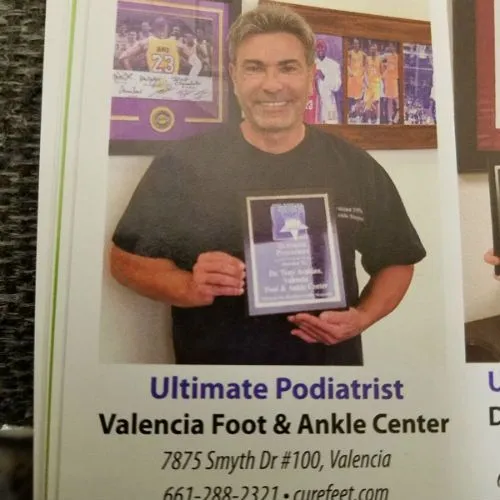 Awarded Ultimate Podiatrist by The California State Legislature, Magazine of SCV & Elite Magazine of Santa Clarita 2019-2023
Sports Medicine Articles